Whether you are from one of the "ride no matter when tribe" or the "ride when the trails are dry tribe", you might find it beneficial to ride with mud guards.  I recently made the switch after my buddies both tried running them.
After installing and riding with them for a bit, I began to wonder why they didn't come standard.
So why don't Mountain Bike Mud guards come standard? Mud guards are seen more as an accessory on a mountain bike and is more of a rider preference than a necessity.  There are many variations, even some DIY options, that manufacturers focus on other items so they don't limit their customer base.
Full disclosure, I rode without mud guards for my first 15 years on a mountain bike. I never really thought about upgrading until one of my buddies created a DIY set and then another got set as a gift.
Before I decided to join the bandwagon, I looked around at the options as well as the pros and cons.
If you want to take a look at some of the best options are out there, check them out here.
The Pros of riding with Mud guards on your Mountain Bike
There are several pros of riding with mud guards on your mountain bike.  They are keeping stuff out of your face, limiting the amount of dirt buildup on the mountain bike and keeping mud off your rear (literally as well as the gear).
Keeping Dirt, Debris, Water, and Mud off Your Face using Mud guards
The biggest pro of adding mud guards to your mountain bike is keeping the dirt, debris, water and mud off your face.  While getting an awesome pic of a mud splattered face at the end of a fun ride is great, the downside not being able to see could be a major problem.
I did not think it was that big of a deal at first but once I went through the first section of trail that was a bit damp I was sold. The other riders with me were covered in over spray and I was seeing clear without that taste of grit in my mouth either..
Limiting the Amount of Dirt Build Up on the Mountain Bike
The next pro is limiting the amount of dirt build up on the mountain bike.  Just picture all dirt, debris, and mud flinging off your front tire. The mud covers everything from the fork to the frame.
One of the sections that gets missed when cleaning the bike after a muddy ride is the underside of the head tube. When I was first preparing my bike for the mud guard, I noticed buildup that I had not paid attention to before.
With the addition of the mud guard, I am no longer seeing a buildup on the underside of the head tube.  Time will tell if this keeps up but for now it sure is cutting down on my cleaning time.
Keeping Mud Off Your Rear and Your Gear!
While you may not think too much about this until after your ride, there is a lot that gets kicked up.  Sometimes it's nothing but a little bit of dirt and dust while other times your shorts look like you just had the Hershey squirts mid ride.
This could be really bad if you forgot a change of gear for your ride home or a towel to cover the seat. Nothing is more uncomfortable than riding back to the house trying with your seat leaned back trying to keep upright and not leaning on the seat.
The addition of a rear mud guard you will see a lot less of this. While it isn't going to eliminate it all, you will see a significant reduction in dirty gear.
The Cons of riding with Mud guards on your Mountain Bike
So we have seen the pros. Let's take a look at the cons of adding mud guards to your mountain bike. The biggest cons are that they could clog up with mud, they could damage your bike and if you pick the wrong ones it could make your bike look like trash.
Mud guards clogged up with mud
While I haven't run into this issue myself, while researching I did find this to be a frustration in several forums. Simply put, if riding in very muddy trail conditions, you run the potential of getting clogged mud guards.
The simple fix here is to unclog as you ride but for some that can simply be too damn annoying. For others this will never really be an issue.
Mud guards could actually damage your bike
If hastily applied to your bike you could actually do some damage. That's what happened in my case.
I was so eager to try them out after they came in, I didn't even think about scratching up the frame.
I simply zip tied the rear mud guard in place and rode on. After a few rides I noticed abrasions on the paint where the ties came in contact.
The simple fix here though it to add some frame protectors to the frame first. If this is done you can veep an eye on the frame protector and simply replace it when it needs to be.
The wrong choice of Mud guards could make you bike look hideous.
I like clean lines on a bike myself and if you choose the right set of mud guards, you can keep that clean look.
This SKS X-Tra-Dry QR Fender found here may do the trick but at what cost. Most, if not all bikers I know, chose their bike on function and looks.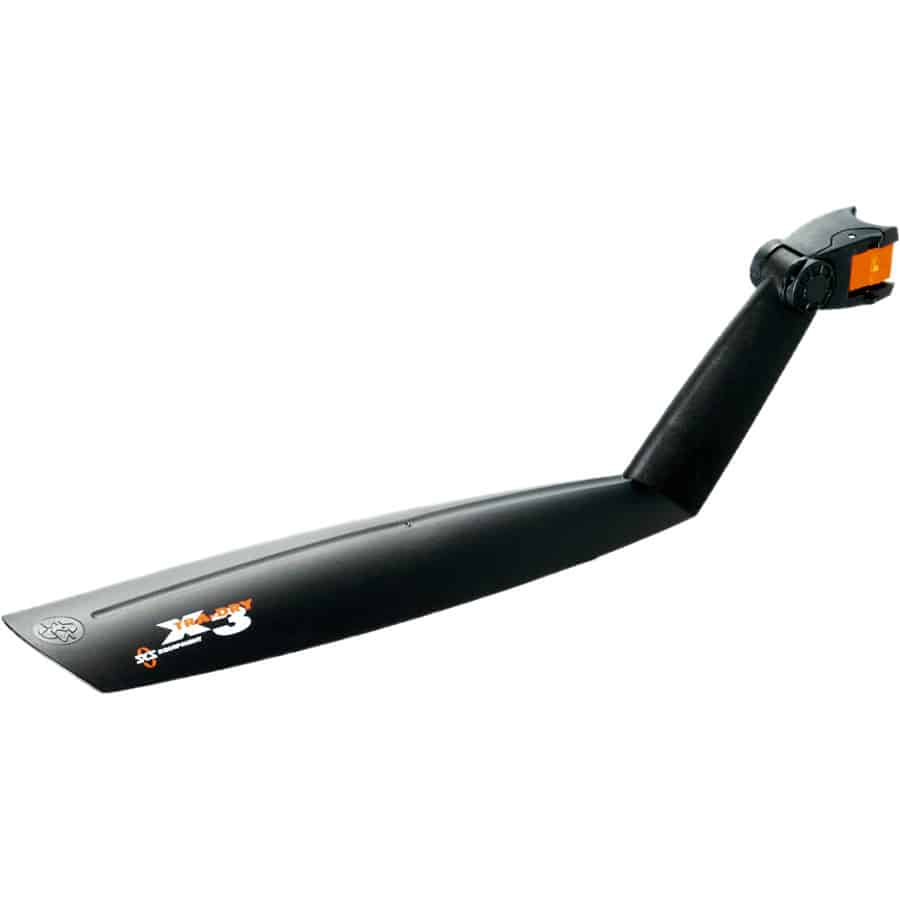 If you add this to your bike, the looks will surely go away. I for one, don't think its worth it.
This Blackburn mud guard can be purchased here for around $15 and uses velcro straps to secure itself to the fork of your bike.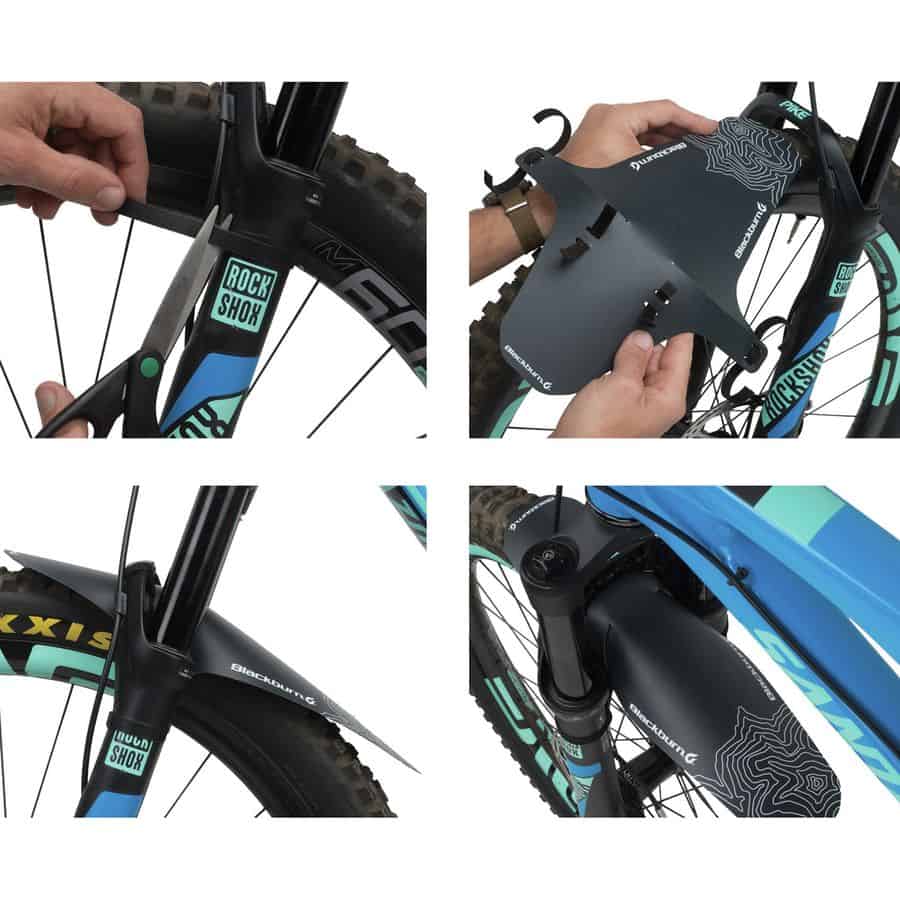 So what options do you have for Mountain Bike Mud guards?
If you are still interested then you have some options.  Whether you are handy and want to make some of your own or you simply want to purchase a pair.
If you build your own, you can modify it with some stickers that match your personality. I simply wanted to find something that I knew would do the job and matched the color scheme I was looking for.
Aftermarket and DIY Mountain Bike Mudguards
As shown above, there are several aftermarket options for mudguards.
Don't want to pay for Mudguards for your bike? Well, there are several DIY options here. You can grab a template and cut your mudguard out of either a large soda bottle or even an old trash can lid.
Check out this video from GMBN on creating your own mudguard out of a 2-liter soda bottle.
All Mountain Bike Mud guards have a similar installation process
Most mudguards are installed in the same fashion.
Whether it is with velcro (hook and loop) or with zip ties, the front mudguard is secured to the front fork and the rear mudguards are secured to the frame.
Depending on what type of mudguard you get for the rear, you may find yourself securing it to the seat post.
Regardless of your options, just be sure to pay attention to the contact points on the frame to ensure you aren't damaging the frame of the bike.
If you want to take a look at some of the best options are out there, check them out here.
Related questions and posts
So why don't mountain bikes have kickstands?
Growing up, most of our bikes had come with kickstands. I, as well as others, initially wondered why.
While you will find some mountain bikes with kickstands the higher-end ones don't typically come with them.  If you walk into your local big-box store, like Walmart, you are likely to find bikes in the racks or hanging around with kickstands on them.
The higher-end bikes are catered to actual true mountain bikers who want to get more out of their bikes. While there is still the need to prop up your bike while on the trail, true bikers have plenty of tricks.
Check out our article here to find out why Not all Mountain Bikes have kickstands; uses, reasons, and options.
Why don't all Mountain Bikes come with pedals?
While the lower-end mountain bikes do come with pedals they come with a pair of cheap pedals.  The higher-end bikes also focus more on other components of the bike because they know that the pedals are rider-specific.
Where one rider might be comfortable with clipless others might prefer only flats.  Riders are also fiercely brand loyal. When researching pedals when I was looking to upgrade I found this to be a common trait for most.
For more information and detail check out our post on here.