If you plan on riding mountain bikes for any length of time you are going to want to get a decent pair of Mountain Bike shoes.
I initially started out with running shoes which can work but is not preferred. I found out real quick that I needed something different.
After which, I joined the clipless bandwagon and purchased a pair of Specialized SPD MTB shoes. These shoes really work well in Hike a Bike sections as well as allowing you to get maximum power to the pedals for both the downstroke and upstroke.
I found that I was able to keep up my momentum in those sections as I wasn't having to fear the shoes coming off the pedals like flats.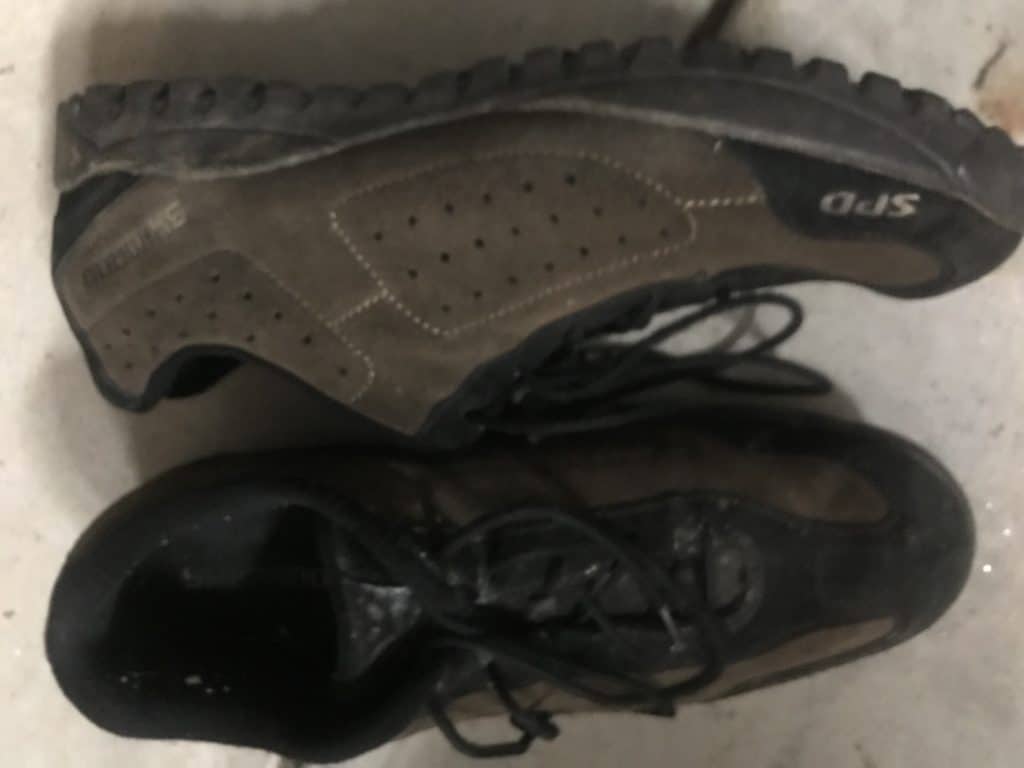 I had a pair of flat sole shoes that weren't MTB specific but did the trick for a little while but the soles weren't solid enough. The white grooves were more solid and allowed for some grip but the black grooves were really soft and allowed too much movement when moving through the technical sections.
These shoes worked much better than straight-up tennis shoes but simply wouldn't cut it for the long term as a regular Mountain Bike shoe. This led me to upgrade to the Five Ten shoes below.
The most recent pair of shoes that I own are a pair of Five Ten Flat pedal shoes. By far these are the most versatile Mountain Bike-specific shoes that I have owned as I can use them for riding as well as for everyday use.
For those moments where I need to pop into the store on the way to or from the trails without having to swap or listing to the clicking of your clip while in the store.
In this article, we break down the common types of mountain bike shoes (flats, clipless, and hybrids), common questions about mountain bike shoes that seem to pop up every year, and common problems that tend to come with mountain bike specific shoes.
Common Types
When it comes to Mountain Bike shoes you have 3 common types; Flat Pedals, Clipless, and Hybrid shoes. The type of shoe you choose boils down to a combination of Shoe Style, Riding Style, and or Rider comfort.
The discussion of Mountain Bike Shoe types comes around every year in regards to which type is best. I honestly started with clipless because that seemed to be the biggest thing in 2005. I still have that pair of shoes, cleats, and pedals today.
Depending on the brand of shoe you may see a number of different categories from All Mountain, Gravity, Cross Country, Gravel, Enduro/Trail, and Cross Mountain.
I for one, have found myself wanting to change things up from time to time so having multiple shoes for me is a must but I am also looking at the benefits of hybrids.
Flat Pedal Mountain Bike Shoes
This is the current style I am running. It allows you the greatest amount of freedom when it comes to Mountain bike shoes.
Flat pedal Mountain Bike shoes allow the rider the ability to feel solidly connected to the bike while also having the ability to disengage quickly.
This helps with tricky, slick corners where the rider needs to stick the leg out to help with the ride. It also allows the rider the ability to quickly disengage from the bike without the struggle of un-clip in the event of an accident.
Flat pedal shoes could be used with standard pedals that come on most new bikes (some don't come with pedals) or they can be used with any number of flat pedals currently on the market. One of the keys when riding with Flat Pedal shoes is having the correct Flat pedal as well.
On the downside, it is much easier for riders to disengage from the flat pedals which is not always a good thing. When this happens it can lead to a bloody mess as the pins of some flat pedals tend to wreak havoc on your shins.
If you are ready to take a look at Flat Pedal Mountain bike shoes, check out the following sites for the best deals; Backcountry, Moosejaw, JensonUSA, Competitive Cyclist, Outland, or Amazon. If you are an Amazon Prime Member (Try Amazon Prime 30-Day Free Trial), there are some that you can try before you buy.
Clipless Mountain Bike Shoes
These were the original type of mountain bike shoes that I started with while trying to get into Mountain Biking.
While the name is a little deceiving, this shoe allows the rider to clip their shoes into clipless pedals securing the shoe with the pedal. This type of shoe allows mountain bikers the ability to apply the maximum power to each pedal stroke.
Riders can push on the downstroke of one pedal while pulling on the upstroke of the other pedal. Clipless Mountain Bike shoes also allow the rider to cheat a little when it comes to jumps and/or bunny hops.
On the downside, some riders (myself included) have had wrecks caused by the inability to unclip/disengage from the bike. This can be due to improper maintenance of the cleat or just nasty conditions out on the trail.
Another downside to clipless Mountain Bike shoes is the fact that Mountain Bikers can cheat a little. By this I mean, when trying to do bunny hops or even pedaling on the trails, riders can cheat by pulling up using their connection to the pedal rather than the proper foot positioning.
If you are ready to take a look at Clipless Mountain bike shoes, check out the following sites for the best deals; Backcountry, Moosejaw, JensonUSA, Competitive Cyclist, Outland, or Amazon. If you are an Amazon Prime Member (Try Amazon Prime 30-Day Free Trial), there are some that you can try before you buy.
Hybrid Mountain Bike Shoes
These are the next style of mountain bike shoe that I have been looking into are Hybrid Mountain bike shoes. These are set up to give you the best of both worlds with the option for cleats or an insert that converts the shoe over to a full flat.
For riders with multiple bikes, whether they are all mountain bikes or gravel or road, they can have one pair of shoes to work across all their bikes.
If you are ready to take a look at Flat Pedal Mountain bike shoes, check out the following sites for the best deals; Backcountry, Moosejaw, JensonUSA, Competitive Cyclist, Outland, or Amazon. If you are an Amazon Prime Member (Try Amazon Prime 30-Day Free Trial), there are some that you can try before you buy.
Common Questions
How Long do Mountain Bike Shoes Last?
Mountain bike shoes can last between 6 months and around 5 years or more. This all depends on the brand of shoe, style of riding, and amount of riding the rider partakes in.
I have a pair of Shimano Clipless Mountain Bike shoes that I rode exclusively early on but only ride sporadically now. They are practically brand new at over 15 years old with some maintenance needed on the cleats.
I have also been wittiness to a number of shoes disintegrating due to the amount and types of riding. The casual mountain biker who maintains their gear could get away theoretically with 1-2 pairs of shoes throughout their riding span.
However, most of us are always tinkering and that number is likely going to be a greater number as we swap from Flat to Clipless and back again. That and reading articles about the next best could pull you down the rabbit hole all over again.
If the mountain biker rides every day and multiple miles in those trips, the shoes will more than likely last closer to the lower end of the spectrum than the higher end. Of course, this also depends on the type of riding.
If you are constantly riding tough technical trails, the shoes take a tougher beating on drops, rock gardens, and potential falls. If you are mixing in a lot of flowy trails without much of a beating, the shoes will last longer.
How Long do Mountain Bike Cleats Last?
Generally, we have seen that Mountain Bike cleats tend to wear out between 1.5 to 3 years with some outliers (6 months to 8 years). The length of life for your mountain bike cleats is affected by a number of factors.
First, If you ride a lot there is a higher chance for your cleat lifespan to be on the lower end of this spectrum and if you wear your shoes off the bike the contact on harder surfaces can take its toll. For example, if your trailhead's parking lot has an asphalt or concrete surface this can add additional wear to the cleats.
Second, If you don't properly maintain your cleats and their hardware, rocks, mud, and grit/grime could affect the lifespan of your mountain bike cleats. It's good practice to inspect your cleats post-ride to ensure that they are ready to go for the next ride. This helps prevent any issues for your next ride and allows time for a replacement if needed.
Third, the cleat material also has an impact on lifespan as some materials are different. If you look at the market, there are options for steel and brass cleats. While both are strong materials, steel is stronger than brass and theoretically should last longer (if all conditions are the same).
Which Mountain Bike Shoes are best?
The best mountain bike shoe depends on the mountain biker's riding styles and pedal selections. While there are a number of lists out there you could use to pick it really boils down to rider preference.
For mountain bikers who feel comfortable riding Flat pedal shoes,
For mountain bikers who feel comfortable riding Clipless pedal shoes
Can you Mountain Bike in Running Shoes?
While you can get away with riding mountain bikes with running shoes, it is not recommended long-term or with most clipless pedals as there isn't enough surface area. As a new rider trying to decide if Mountain Biking is for you, riding in running shoes could work.
The surface of running shoes is specifically designed for running and the impact of your feet on the ground. Because of their design, the soles of the shoes are softer and limit the amount of energy the rider can apply to the pedals.
The uneven surface of running shoes also limits the amount of solid surface area that makes contact with the pedals. It also limits the amount of surface area that the pins have to lock into while riding sketchy technical sections.
When I first started riding back in 2005, this is how I first started out. It allowed me to enjoy some of the aspects of riding MTB but in order to ride a wider variety of trails I needed to step up my shoe game in order to feel comfortable and be safe while riding the intermediate and advanced trails.
To truly get the most out of your MTB Mountain bike adventures, you should get yourself a pair of MTB-specific shoes.
Are Mountain Bike shoes Stiff?
Yes, Mountain bike shoes are much stiffer than your typical shoe. This allows the rider to have solid foot support while also absorbing the big impacts in technical sections or on drops.
While some mountain bike shoes like the Five Ten FreeRider are built with little flexibility, other mountain bike shoes like the Five Ten Trailcross have a stiff mid and rear sole with additional flexibility in the toe box.
The stiff sole on Mountain Bike shoes also allows riders to be able to put maximum power into the drivetrain for a more productive ride.
Flat pedal shoes also tend to be a little more flexible than their clipless cousins. This allows riders the ability to maneuver better in Hike a Bike sections or over technical terrain that you may be sessioning.
Can you walk around in Mountain Bike (MTB) shoes?
Yes, there are mountain bike shoes that you can comfortably walk around in. While the type of shoe makes a big difference in the comfortability of walking around in MTB shoes, in emergency situations you could walk around in most shoes.
The most comfortable Mountain bike shoes to walk around in would have to be a pair of flats as these most closely resemble your typical shoes. However, these shoes are still pretty stiff and some don't have arch support which could lead to some leg pain in the long run.
Some of the clipless come with harder composite soles that have little to no grip. This can be problematic on slick surfaces.
Another issue with clipless shoes tends to be with the cleats on the bottom of the soles. Depending on the recess, the cleat could actually make contact with the surface and lead to an annoying click-clack noise-making everyone turn around to find the noisy individual.
Why are Mountain Bike Shoes Flat?
Mountain bike shoes are flat because the flat surface creates a greater surface area that allows your foot to make full contact with the surface of the pedal. This helps the rider get maximum power to the pedal as well as have maximum grip.
The flat surface allows the MTB rider to have the most freedom when out on the trails because you can allow you easily manipulate the bike while riding the trail without worrying about clipping in and out.
As mentioned earlier, with a flatter surface shoe, you allow the shoes to have greater contact on the pins of the pedal as opposed to uneven surfaces on some hiking or running shoes.
Common Problems
Mountain Bike Cleats locking up
One of the biggest issues with clipless Mountain Bike shoes is the fact that depending on the type of riding, the cleats can get jammed up with debris and prevent a solid connection. It is good practice to inspect and clean cleats after your rides.
Cleats tend to get locked up in the event that you are riding in nasty weather and mud and/or rock get lodged in the components.
MTB Riders with platform clipless pedals can sometimes feel like their clipless shoes are locking up when it might actually be that the pins on the platform are too high. This creates additional friction and grip on the shoe that could hinder the rider from getting their foot off the pedal.
One other thing MTB Riders should look at for Mountain Bike Cleats that are locking up is the tension on the pedal which can be adjusted by a set screw on the pedal. Too much tension would make it much harder to get out of the pedal as well as when trying to get clipped into the MTB pedal.
Other Mountain Bike Problems
Find this article interesting? Check out our other articles to learn more about other bike problems and questions.
In our article Common crank arm problems: how to solve them we cover the common problems mountain bikers have with their crank arms.
In our article Mountain bike pedals: Common Types, Questions, and Problems. we cover some of the common types, questions, and problems that mountain bikers may experience with the different pedals.
In the article, Mountain bike axels explained: common types and problems we cover the different types of mountain bike axels and some common problems you may experience.