Growing up all of my bikes as well as my friends came with kickstands.  When I initially got into mountain biking I was a little shocked that they didn't all come with kickstands.  The more I got into mountain biking I figured out why.
So why don't all Mountain bikes have Kickstands? The lower end bikes do come with kickstands while the higher end bikes usually don't.  The higher-end bikes are usually catered to actual true mountain bikers. Your typical mountain biker will find other means to prop their bike up while out on their ride.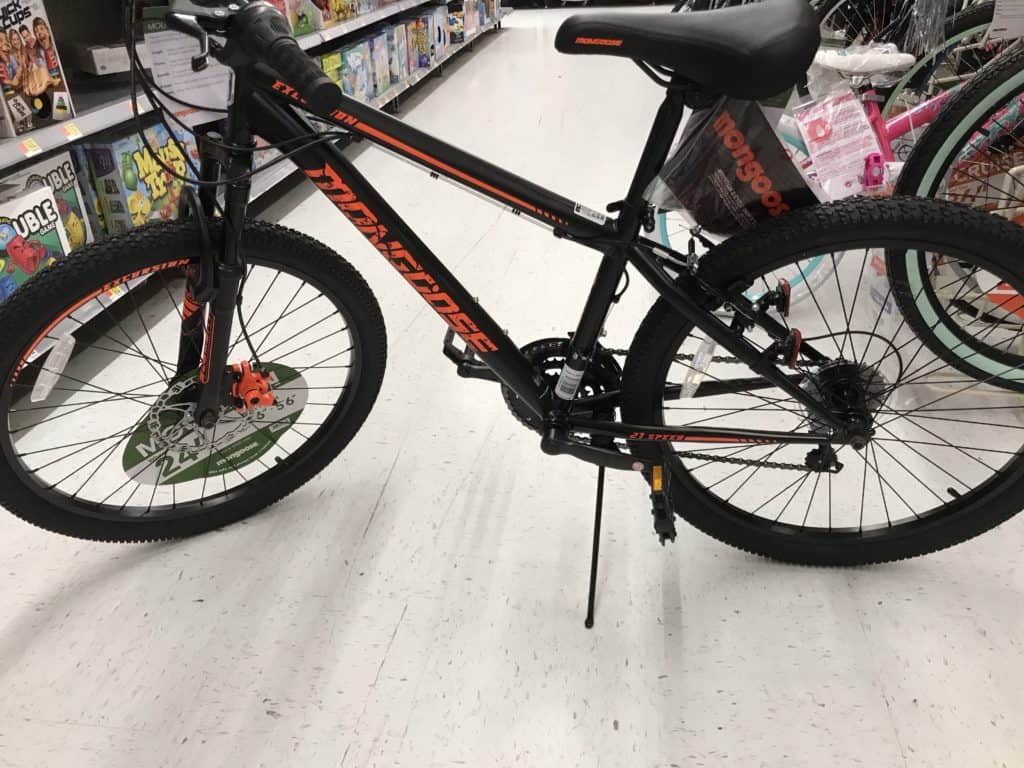 There are several cool and unique ways that mountain bikers find to keep the bike up when taking a break from their rides and we will go into that further later in this post.
The higher-end bikes tend to put their focus and costs on quality components.  They are also focused on limiting the weight of the bikes. The easiest way to lower costs and eliminate weight is to remove a component that most mountain bikers never use. 
Kickstands are also problematic because they could end up being a safety risk if they get caught up on more technical trails and it is one more component that would need to be maintained.
Mountain Bike Kickstand Uses
For those who are interested in having a kickstand on the bike, there are some valid uses.  Some of these valid uses for storing the bike in the garage, working on the bike and washing the bike.
One of the areas where some might find it handy to have a kickstand would be around the garage or storage shed.  The ability to be able to have the bike resting on the kickstand versus just leaning up against the wall of the garage could offer a bit of comfort in not having to worry about it falling over.
For alternate options for storing your bike at home check out the next section of this post!
If you ride your bike long enough you need to do some maintenance on it to ensure you can ride it for a while.  If you don't have a bike stand, a kickstand is a good option for you to be able to work on your bike while it is upright.
Free Kickstand Options For Mountain Bikers
Mountain Bikers are an inventive bunch.  Whether out on the trail or tooling around the house, mountain bikers have come up with various ways of propping their bikes up when they need to.
While out on the trail, it is as simple as finding a tree close enough to rest your bike on.  The key is to ensure that if you are on the trail, your bike isn't leaning against a tree too close to the trail.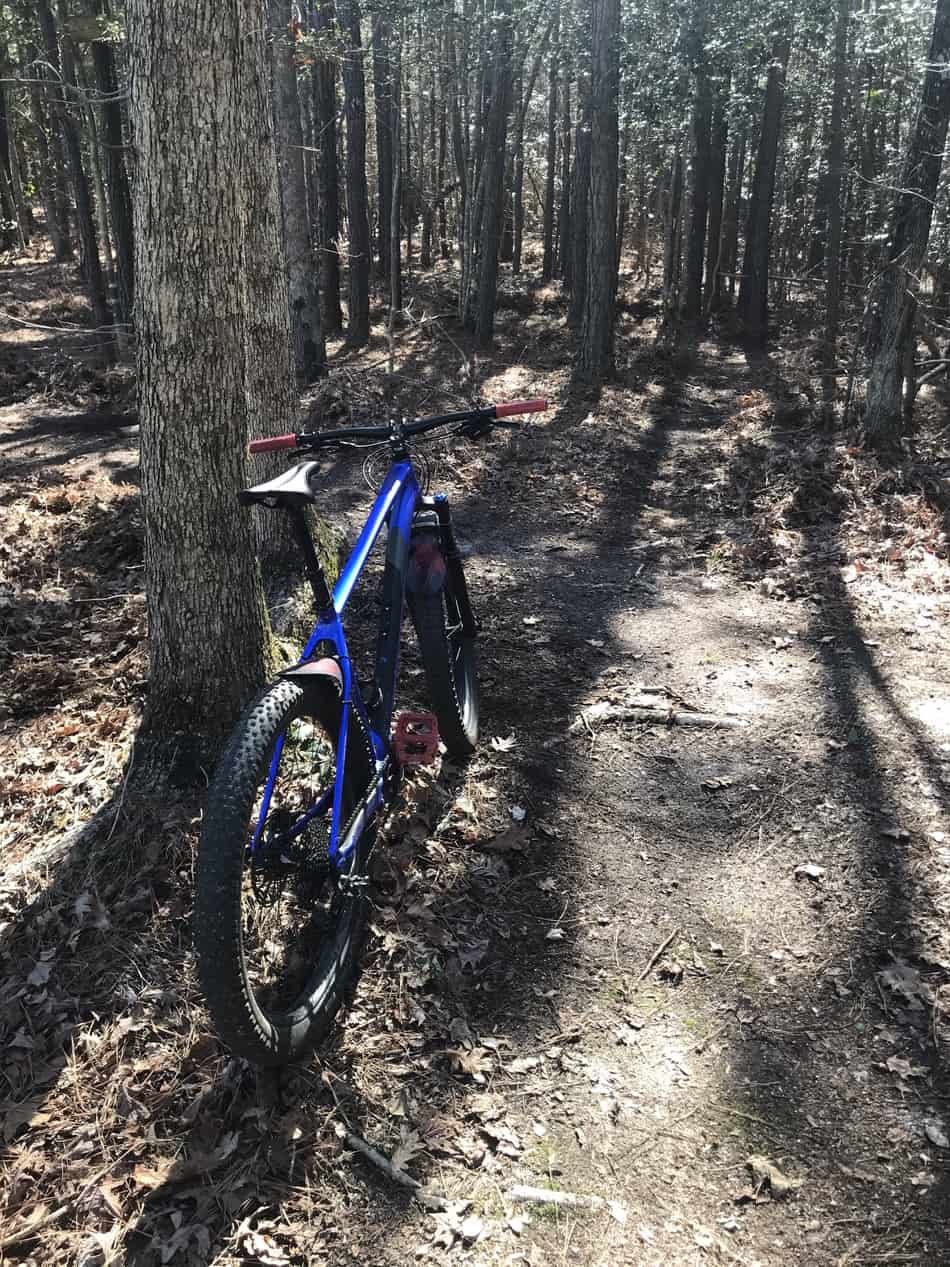 You want to ensure that you practice trail etiquette while riding or resting out on the trail.
Another option might be finding the right rock combination that allows for one of the bike's tires to be wedge tightly enough that it stays upright when you need it to.
When you can't find something to use to prop your bike up while resting, you could simply rest it on the ground. The key is to try and lay it down on the non-drive side of the bike to ensure that you don't damage the derailleur.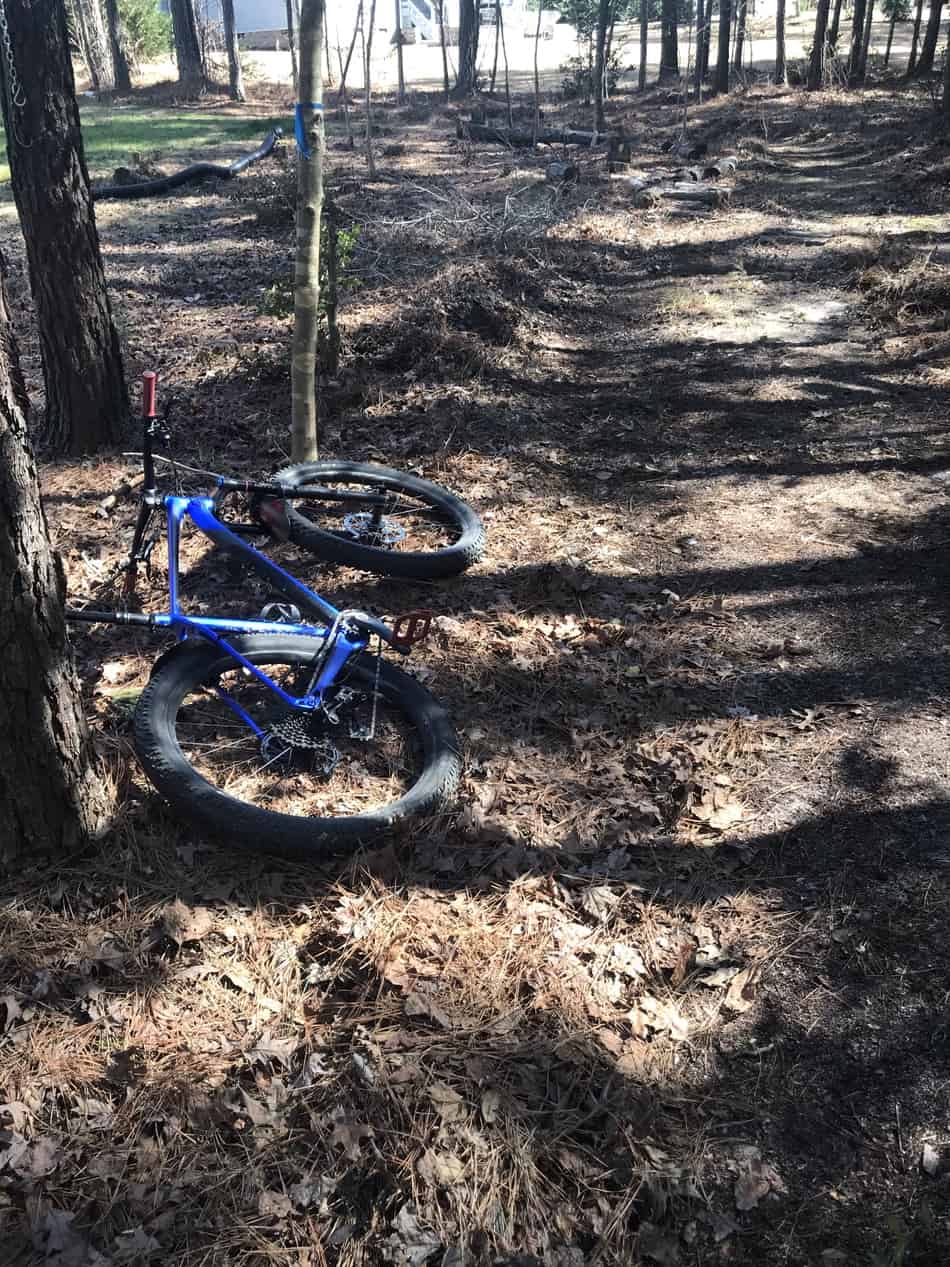 And at all costs, try not to simply just drop it on its side.  While you probably do this often enough while riding due to technical features or losing focus out on a ride, the less you throw it down the longer things will last.
Mountain Bike Kickstand Alternatives
If you don't want to have a kickstand then you are among the majority of the mountain bike world.  You are still going to need to keep your bike upright for storage.
Most mountain bikers have bike stands like the ones pictured below (view my review here) that could be used for storage if needed. The biggest thing is whether or not your stand can accommodate this.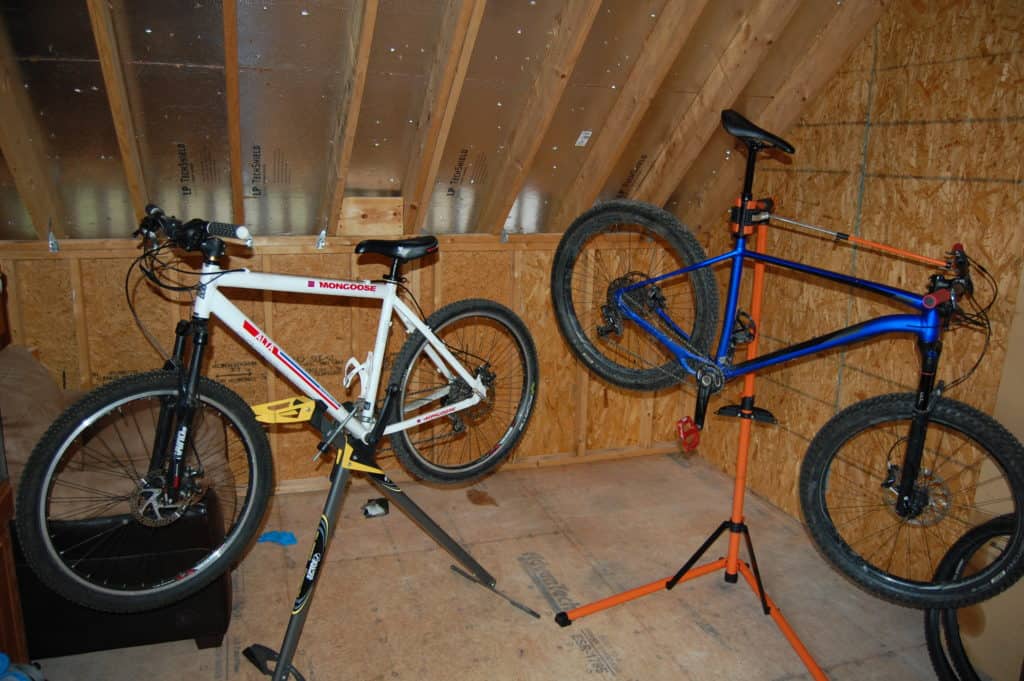 If using a bike stand that clamps around the seat post and your bike have a dropper post, you won't want it in the stand for too long.
You will also want to ensure the clamp portion is clean, especially on dropper posts as you want to ensure that debris does make it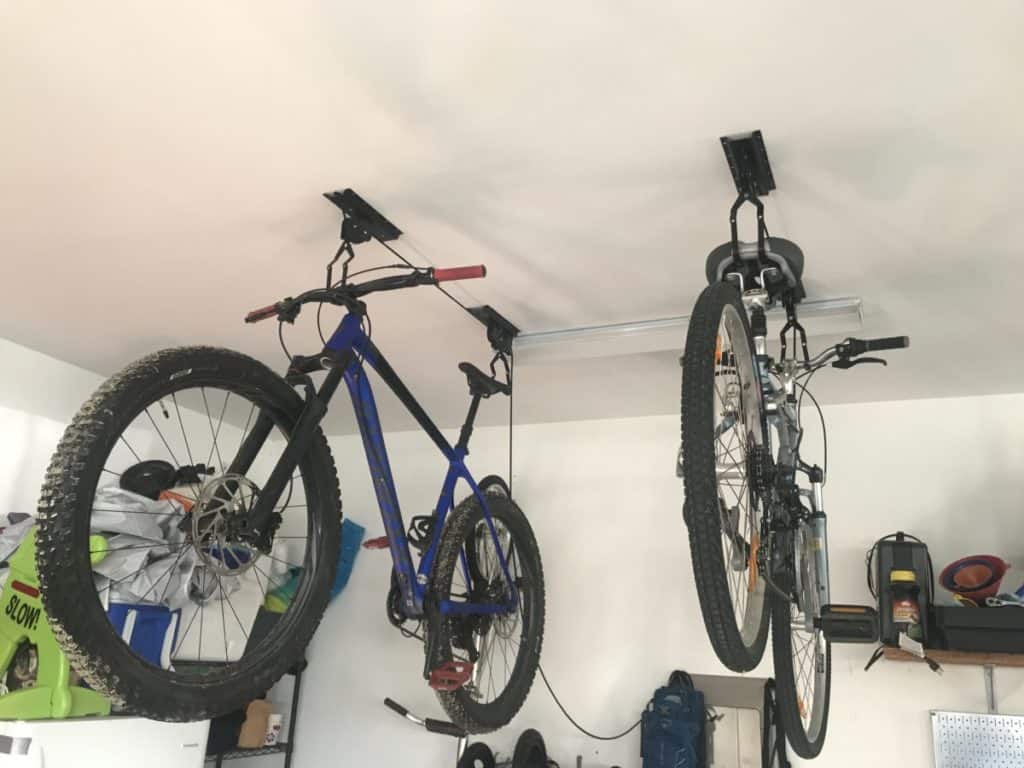 Two Christmases ago we got bike storage for my mountain bike and my wife's commuter bike.  This setup allows for the storage of your bike without taking up too much space in the garage.
The only issue with this setup is if you are tall like me. With standard ceiling heights, you might have to duck a little bit.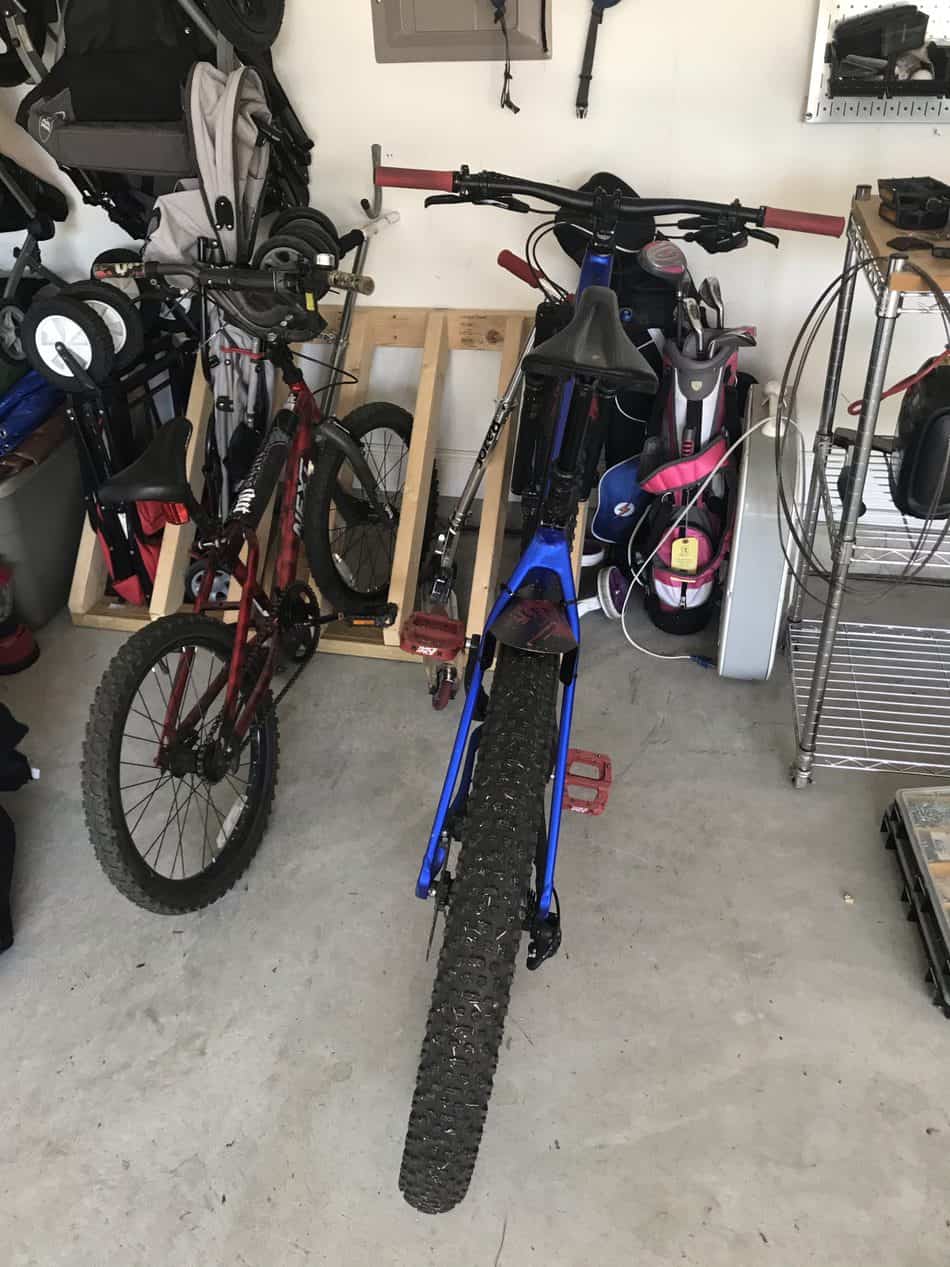 A much cheaper option is the 2" x 4" setup that I had created for the kid's bikes.  This allows me to rest their bikes up out of the way of the cars and in the pinch, I can do the same with my bike if needed.
Aftermarket Kickstand Options For Mountain Bikers
So you still want to add a kickstand to your mountain bike? Here are a few options for you to look into 
One of the coolest options is the All Mountain Style Kickstand (found here on JensonUSA). This minimalist style kickstand that folds up for easy storage in your bag.
It was designed to work for road, gravel, XC, trail, enduro and Downhill Bikes.
Another option is of a standard style and design that can be found on Amazon. BV has a number of them in their store including their BV Alloy Adjustable Rear Side Non-Slip Bicycle Bike Kickstand.
It is adjustable to work with 24-29 in bikes and is made out of alloy. 
The kickstand is easy to install with two mounting points that allow for stability and has an adjustable rear mounting angle
Related Questions and Posts
Why don't all Mountain Bikes come with pedals?
While the lower end mountain bikes do come with pedals they come with a pair of cheap pedals.  The higher-end bikes also focus more on other components of the bike because they know that the pedals are rider specific.
Where one rider might be comfortable with clipless others might prefer only flats.  Riders are also fiercely brand loyal.
When researching pedals when I was looking to upgrade I found this to be a common trait for most. For more information and detail check out our post on Why don't Mountain Bikes come with pedals? Reasons, Types, and Options
Why don't Mountain Bikes Mudguards come standard?
While I am not a proponent of riding on wet trails, sometimes you come across a mostly dry trail with a section or two of dampness. That, or you have a section of trail with a creek crossing. 
So why don't mountain bikes come with mudguards? While mountain bike mudguards are fairly inexpensive, they are typically rider specific in that they come in various styles, shapes, and sizes. 
Instead of having your local bike shop add it onto your new ride if you are buying one, purchase a set online and try to install them yourself first. If you want to learn more about mountain bike mudguards, check out our article here where we go into the reasons in more detail as well as aftermarket and DIY options.
Either way, I can't stop recommending them enough.  It took me a while to jump on the bandwagon but I am so glad I had put them on my wish list for Christmas last year.