As an avid mountain biker, I use holidays and birthdays to get the new gear that I have been wanting to get but might not have had the cash for. I have researched these items many times over trying to build those gift ideas list for friends and family.
After coming to the realization that there were probably many other mountain bikers that did the same thing I felt I should go ahead create a post that could be used by others as well.
Pre-Ride Gift Ideas
This list of mountain bike gift ideas contains a variety of items that can be used either at the house or in the parking lot of the trailhead.
From bike stands, portable workbench, books and magazines, we highlight several items that could be beneficial.
Bike Stands
A good bike stand can go a long way to helping you keep riding for a long time. I purchased this Conquer Bike Stand from Amazon and it makes a big difference.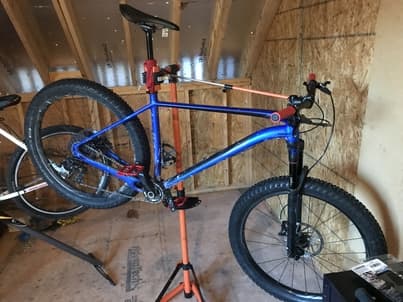 The Conquer Bike Stand comes with an adjustable head clamp that allows for clamping at any angle, adjustable height, folding legs and a tool tray with a magnet. With all these options and its reasonable price, it was the choice for me.
A couple of other options for bike stands are the Bikehand Bike Repair Stand on Amazon or the Park Tool Home Mechanic Repair Stand also on Amazon. Both are highly rated options
Portable workbench
Another option is this foldable/portable workbench from Park Tool. It could be used in the garage or shed and tucked out of the way in order to save space.
My buddies and I are going to be heading to Cherokee, NC for a bike race. I am looking at this stand to also take it on that trip.
This will help us keep the tools and gear organized while working on the bikes.
Books and Magazines
The Complete Bike owners manual
The Complete Bike owners manual is 224 pages filled with some of the best illustrations you will find out there. The book covers topics like routine maintenance, fixing problems, making adjustments and even building a bike from scratch.
Zinn & The Art of Mountain Bike Maintenance
Zinn & The Art of Mountain bike maintenance tops the Amazon Best Sellers in Mountain biking. It offers Step by step instructions with troubleshooting charts and exploded diagrams.
If your not fully confident with your abilities having a book like this will help you get through the regular maintenance needed on your bike.
Mountain Bike!: A Manual of Beginning to Advanced Technique
Mountain Bike! is a unique book. The text is a scan of handwritten text with funny drawings.
While at first, it looks a little silly, the book gives you techniques that were learned through many crash and burns while riding.
Mid-Ride Gift Ideas
This list of mountain bike gift ideas of a mid-ride use contains objects that I have either used while out on the trail or wish I had while out on the trail.
There are a number of things that can happen and these items can be used while out on the trail.
Hydration Pacs
Depending on the type and/or length of the ride, hydration is key. Over the years I have owned a variety of sizes and types of hydration items.
Here are three options for various types of rides that riders use often.
Short ride (or in the combination of a pack for longer rides)
I have always ridden with a cheap water bottle cage which has driven me and my buddies nuts. First off, the water or Gatorade bottles made a terrible amount of noise. Secondly, it never failed that when we hit the rough stuff the container would constantly bail on me and I would have to stop and grab it.
I first came across this Lock-on water bottle Fidlock while watching one of Seth's Bike Hack videos. This is on my list of must-haves now and is on my list. With various adaptors, this contraption can be mounted to just about any bike and carry more than just water.
Mid-range ride
On the mid-range rides when you need more than a single water bottle but not the excess weight of a full bag a fanny pack is a great option.
CamelBak has a great option in the CamelBak Palos 4 which has a 1.4-liter reservoir to go along with the before mentioned water bottle. The Palos 4 also comes with a tool pouch and overflow storage.
The Osprey Talon 6 is the largest of their lumbar packs. It comes with 2 600 ml water bottles that are BPA-free. There are foam pieces that allow for airflow to help prevent sweating.
There are additional pockets that allow for ample storage for your riding needs.
Long-range ride
This is my latest hydration pack and I absolutely love it. This is the Osprey Raptor 14L backpack.
The pack comes with 3L reservoir to help keep you hydrated The pack also comes with a number of storage options.
The base of the pack also includes to roll out tool pouch.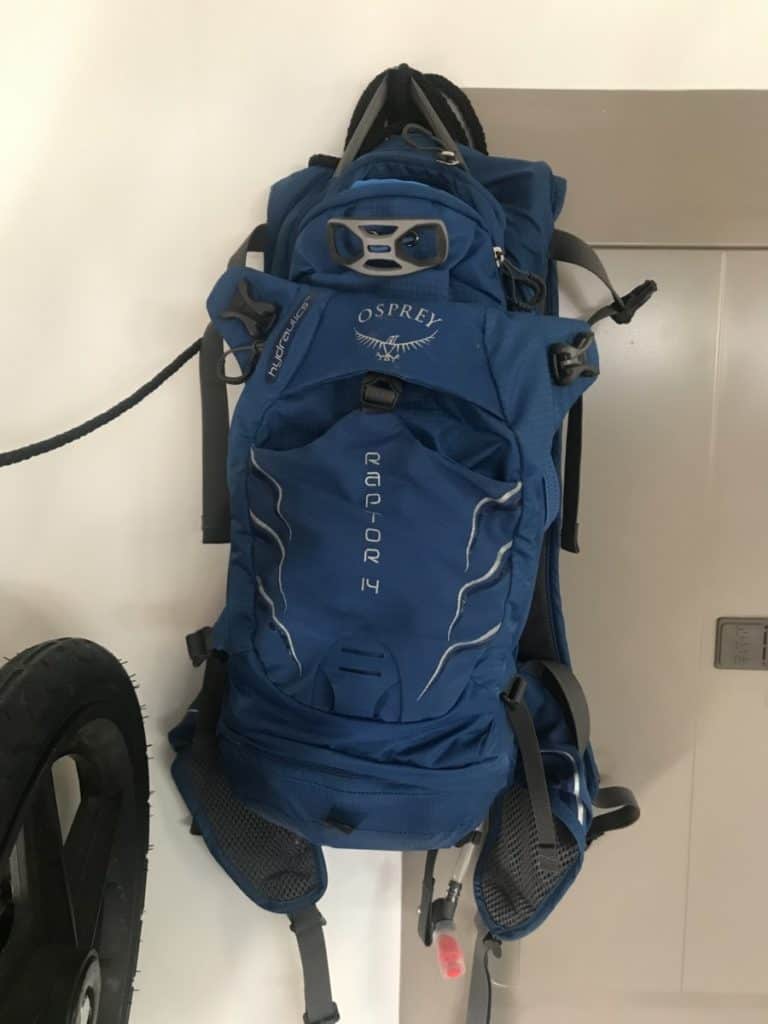 Tools
During mountain bike rides there will be times where you need to wrench on your bikes.
A CrankBrothers Multi-tool is a must-have in any mountain bikers bag.
This multitool has an indexing feature that locks the tool you need in place while you are using it.
Post-Ride Gift Ideas
This list of mountain bike gift ideas of a post-ride use.
Post ride shirts
Nothing helps a rider feel better after a good ride than getting changed into comfy dry clothes. We have several options on our MYMTBGEAR Etsy site.
Changing Poncho
One of the most awkward things post-ride is trying to change out the stinky sweaty riding clothes and that's where this poncho comes into place.
I have had way too many of those dropped towel moments so this is a must for me.
No more worrying about giving the world show and awkwardly straining to change while holding a towel as a coverup.
Mountain Bike Accessories
This list of mountain bike accessory gift ideas.
Mountain Bike lighting
More and more trails are now opening up for night rides. Having proper lighting makes a huge difference.
Riders will be better off having a light both on the helmet as well as on the handlebar for ultimate coverage. Below are several options.
Handlebar lighting
I currently ride with a Niterider Lumina handlebar mount. It offers great coverage, is rechargeable, has various settings.
Running at 275 lumens it will last for 6 hours with 1200 lumens at only an hour. The universal mount fits up to 35mm bars
NiteRider Lumina Helmet Mount
My buddies and I had been running with a plain headlamp that one might use in a campsite. The problem is that they are hard to adjust and get great coverage.
This is where the NiteRider Lumina helmet mount strap comes in handy. You can go with the NiteRider Lumina 1200 for the handlebar and a smaller light like the 850 or 650 to go on your helmet mount.
Runnin a light on the helmet allows for coverage for where the rider is looking prior to making a turn and getting coverage from the handlebar light.
Unique Mountain Bike Gift Ideas
This list of unique mountain bike ideas covers just a few examples of what can be found out there.
Pizza Cutter
While this Pizza cutter technically is a road bike it would still be a cool tool to have around in the kitchen.
Mountain Bike themed clock
Looking for a way to show your love for Mountain biking all the TIME? Check out this unique clock made out of old records.
They have several designs like this one that looks really cool and can add some flair to an office or a man cave.
I hope you found some cool ideas to add either to your gift list or for your mountain biker.